Make money with Google Ads... just like me!


AWARD FOR: Past Forward, Fun Life Company

<! ----- Begin Unique Award Space --------> MEMBERSHIP FROM: Lady Care's Realm on the Web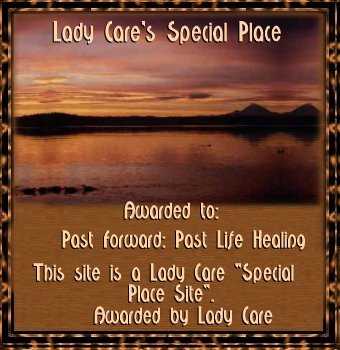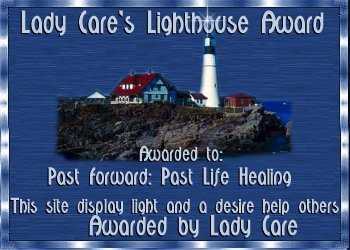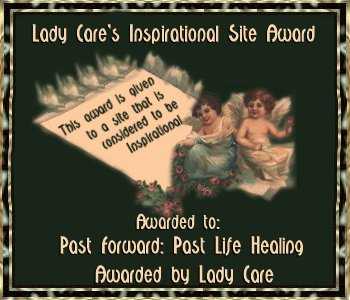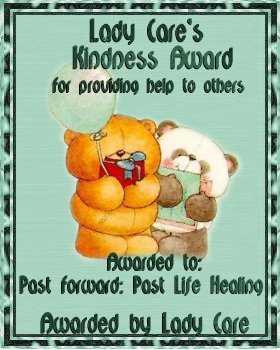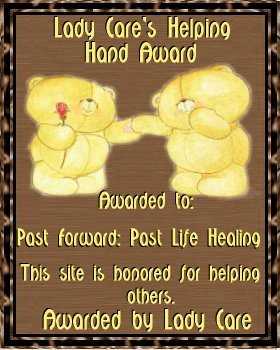 FROM LADY CARE'S REALM ON THE WEB: "Hi Ellen: After careful review of your site, it has been determined that it qualified and earned more awards than you applied for. Although you applied for the "Lady Care's Light Award", it was determined that your site did more than meet the criteria for that award. Your site also met the criteria for "Lady Care's Inspirational Site", "Lady Care's Helping Hand Award", "Lady Care's Kindness Award", "Lady Care's Lighthouse Award", and "Lady Care's Special Place Award". Each of these awards must meet two sets of criteria so it is my honor to tell you that your site qualified and won each of these awards by a high margin. So congratulations again....for having such a great and helpful site. Love and Hugs, Lady Care"
"We are given the blessing of sharing this passage through time and space, never too far apart that our hands do not touch, for wherever we may wander, we go with love" by Diane Westlake
ABOUT LADY CARE'S REALM ON THE WEB: In their own words: "I hope that your visit here brings you some happiness and sunshine... that would make this all worthwhile. Enjoy yourself because that's what Lady Care's Realm is all about... a place to visit to see everything you can but to have a good time doing it.!! This site believes in all of the following virtues:
Faith:
A shield of FAITH gives us the power To hold strong to our beliefs.
Hope:
With HOPE, we anticipate only the best of what the future holds.
Love:
And the greatest gift, Eternal LOVE, fills our lives with sweet comfort.
Grace:
With GRACE, being thoughtful of others, fills us with inner happiness.
Charity:
With CHARITY, our goodwill to humanity sets an example for others.
Joy:
With JOY, bringing pleasure and delight to others by setting an example.
Serenity:
With SERENITY, sharing a limitless inner peace with all others.
Let There Be Peace On Earth, And Let It Begin With Me!" From the moment that one sets cyber-foot in Lady Care's Realm on the Web, the energy of unconditional love and caring can be felt pouring from the webpages. For those of us with a difficult path through life, her resources on Abuse are simply a ray of light in the darkness. If you ever explored the Realm, you were quite lucky indeed! <! ----- End Unique Award Space -------->



KEYS:
F-R-E-E:
SERVICES:
BOOKS:
TOOLS:
CONTACT:

Discover the Ancient Secrets
to Creating Vibrant Health!

Breakthrough Chakra Healing Program
combines the BEST of Ancient and Modern
Technologies to Heal Your Life Naturally.

Click here or on the image of the ebook for
testimonials about healing successes!
Home | Instant Info | Past Life Profile | Catalog | Email
Our Services Terms of Service Coaching Agreement Earnings-Income Disclaimer
Health-Medical Disclaimer Affiliate Disclaimer Copyrights-Trademarks Notice
Privacy Notice GDPR Refund Policy FTC Compliance Notice Anti-Spam Policy
DMCA Compliance Notice Social Media Disclosure Website Accessibility Policy
Report Abuse

Web Site Hosted by Net Atlantic

by New Age Web Marketing
Copyright © 2000-2023, Ellen A Mogensen, Past & Now Forward Holistic Counseling,
532 Old Marlton Pike #248, Fun Life Company LLC, Marlton, NJ 08053 USA (856) 988-9716
Past Forward(TM) & Now Forward(TM) are trademarks of The Fun Life Company.
All rights reserved. http://www.healpastlives.com heal past lives, karma, reincarnation