Make money with Google Ads... just like me!


AWARD FOR: Past Forward, Fun Life Company

<! ----- Begin Unique Award Space --------> AWARD FROM: Manjushri Mandala: Kindness Award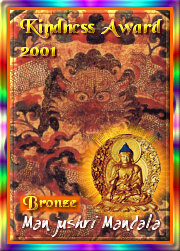 FROM INSTITUTE FOR ASTROENERGETIC STUDIES (IAS) & MANJUSHRI MANDALA: "Dear Ellen, Greetings from Ireland :-) We did surf your creative, informative and nicely designed place and checked both, your textual and visual content as well as your navigation. But most importantly we had the overall impression that the motivation for creating your site is rooted in kindness, dedication and the wish of sharing and spreading enlightenment.
This attitude is a very precious one and shows your ambition to make the net a more human and friendlier place. Beside beauty, content, originality, and individuality we mainly try to catch the spirit of a site and yours has heart, brain and soul!

CONGRATULATIONS!!! you are a kind and open-minded net-citizen and we like to offer you our "Manjushri Mandala Kindness Award 2001 in BRONZE". We would be honored if you would accept this symbol of our cyber-friendship.


May the Tibetan dragon king (druk dru) and the Golden Buddha grant you continued creativity, wisdom, positive energy, insights and success. And may they act as powerful reminders to keep the spirit of kindness alive. With rainbows and light from the Emerald Isle, Hans & Thomas
IAS & Manjushri Mandala, http://www.iol.ie/~taeger"

ABOUT THE KINDNESS AWARD: In their own words: "The 'Manjushri Mandala Kindness Award' was introduced in 1999 and is by now a prestigious standard award. The 2001 edition comes in four graduations (Gold, Silver, Bronze & Merit) and under stricter criteria. It is not easy to receive. Feel proud & enjoy!"

ABOUT IAS & MANJUSHRI MANDALA: In their own words: IAS/ Manjushri is about "bringing together the fields of Astrology, Buddhism and Psychedelic Research... (which) seems strange or offensive to some. For us they are a whole. They all deal and try to explain the same hidden nature of ourself. The light, the magick, the energies, the potential of the inner and outer universe, the karmic destination, the meaning of life. As advocates of an unorthodox and modern interpretation and presentation of old wisdoms, esoteric knowledge, and even religion we try to 'translate' those old traditions and their basic ideas matching the spirit of the beginning 21st century. Traditionalist's or better translators may have mercy." Good for you! The old wisdom needs to and must translate into the new!

<! ----- End Unique Award Space -------->



KEYS:
F-R-E-E:
SERVICES:
BOOKS:
TOOLS:
CONTACT:

Discover the Ancient Secrets
to Creating Vibrant Health!

Breakthrough Chakra Healing Program
combines the BEST of Ancient and Modern
Technologies to Heal Your Life Naturally.

Click here or on the image of the ebook for
testimonials about healing successes!
Home | Instant Info | Past Life Profile | Catalog | Email
Our Services Terms of Service Coaching Agreement Earnings-Income Disclaimer
Health-Medical Disclaimer Affiliate Disclaimer Copyrights-Trademarks Notice
Privacy Notice GDPR Refund Policy FTC Compliance Notice Anti-Spam Policy
DMCA Compliance Notice Social Media Disclosure Website Accessibility Policy
Report Abuse

Web Site Hosted by Net Atlantic

by New Age Web Marketing
Copyright © 2000-2023, Ellen A Mogensen, Past & Now Forward Holistic Counseling,
532 Old Marlton Pike #248, Fun Life Company LLC, Marlton, NJ 08053 USA (856) 988-9716
Past Forward(TM) & Now Forward(TM) are trademarks of The Fun Life Company.
All rights reserved. http://www.healpastlives.com heal past lives, karma, reincarnation