Make money with Google Ads... just like me!


AWARD FOR: Past Forward, Fun Life Company

<! ----- Begin Unique Award Space --------> AWARD FROM: Enlightened Pages: Enlightened Pages Award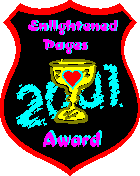 FROM ENLIGHTENED PAGES: "Namaste and Greetings from New Zealand, I am pleased to be able to offer you the Enlightened Pages Award for your impressive website. All the Best and Keep up the Good Work!
Surendra Dass" (Thanks for our first international award! -EM)
ABOUT ENLIGHTENED PAGES: In Surendra Dass' own words (which are so beautiful that I cannot possibly add to them -EM):

"Enlightenment, Nirvana, Inner Peace, Self Realisation, Higher Consciousness, Supreme Knowledge, Oneness with the Universe, Unconditional Love, and God are achievable. There are as many ways of attainment as there are people...


OM is the first letter of the Sanskrit alphabet. The significance is that it represents all the sounds in the universe combined. In the beginning, there was nothing and then... there was the Word, the word was Om and all of creation eminates from it... A momentary flash of oneness provides the experience that allows the theoretical to become real.

Awakening need not be total realisation in order to propel one toward their trip home. Some paths are quicker than others, some more austere, and some may take several lifetimes to complete (see "Living the Way of Dharma" ).

Relax, do not be too hard on yourself, enjoy life and remember that all roads lead to Nirvana and Enlightenment does not care how you get there!"

<! ----- End Unique Award Space -------->



KEYS:
F-R-E-E:
SERVICES:
BOOKS:
TOOLS:
CONTACT:

Discover the Ancient Secrets
to Creating Vibrant Health!

Breakthrough Chakra Healing Program
combines the BEST of Ancient and Modern
Technologies to Heal Your Life Naturally.

Click here or on the image of the ebook for
testimonials about healing successes!
Home | Instant Info | Past Life Profile | Catalog | Email
Our Services Terms of Service Coaching Agreement Earnings-Income Disclaimer
Health-Medical Disclaimer Affiliate Disclaimer Copyrights-Trademarks Notice
Privacy Notice GDPR Refund Policy FTC Compliance Notice Anti-Spam Policy
DMCA Compliance Notice Social Media Disclosure Website Accessibility Policy
Report Abuse

Web Site Hosted by Net Atlantic

by New Age Web Marketing
Copyright © 2000-2023, Ellen A Mogensen, Past & Now Forward Holistic Counseling,
532 Old Marlton Pike #248, Fun Life Company LLC, Marlton, NJ 08053 USA (856) 988-9716
Past Forward(TM) & Now Forward(TM) are trademarks of The Fun Life Company.
All rights reserved. http://www.healpastlives.com heal past lives, karma, reincarnation