Make money with Google Ads... just like me!


RULES OF THIS GUEST BOOK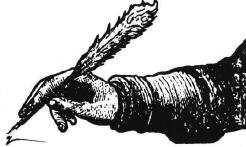 The only only thing that does not change... is change! This is one of the few pages on this site of ancient and timless wisdom that has changed with changing times. So, if you have read it before... you need to read it again. The "Rules of the Guestbook" - sadly - had to change due to real world concerns.
On a POSITIVE NOTE: This website would not be possible without the wonderful support and insightful questions of my great clients. I am eternally grateful to have met so many amazing people!! This Guestbook has been an ongoing source of strength and encouragement to me. I thank and bless each and every one of you who have contributed to this Guestbook!
On a REALISTIC NOTE: Many visitors to this site will remember that there used to be a real time, interactive Guestbook where entries were posted right away. Then the pornos, scamsters, scripsters, and marketeers attacked the Guestbook by posting unwanted, automated entries into it. These were vile comments that forced me to shut it down... for awhile... but everything reincarnates! Now our Guestbook will be moderated going forward.
ABOUT MODERATION: What moderation means is that... there will be a time delay between when individuals submit entries and when I will be able to post them to the Guestbook. Please understand that - eventually - your entry will be posted. As to when that will happen, it will be done as time permits. Thank you for your patience and understanding... and for your Guestbook entry.
ABOUT PRIVACY: Why have the rules of this Guestbook have changed:

* No Last Names: The best way to protect the privacy of clients and visitors to the site is to display the first name and the first initial of the last name only (or, even better, handles or nicknames). Belief in karma, reincarnation, and past lives is still controversial. Part of honoring my clients and visitors is to allow them anonymity.

* No Email Addresses: The only full name listed in the Guestbook now is the name of an individual who went through the old Guestbook, harvested the email addresses there, and spam mailed these unsuspecting people. The next best way to protect the privacy of clients and visitors is to keep their email addresses private.

* No Weblinks: Many times those who sign Guestbooks do so only to promote their site. Links in a Guestbook imply that I have endorsed or otherwise approved of the the site when I have not. So f you want to exchange links, then request a reciprocal link exchange. That is the honorable way to do site promotion.

* No Dates: Part of protecting privacy is to show the Guestbook entries out of sequence... that way others cannot discern - based on the date order - when someone came to see me. It is in an order where I can prove to governmental authorities these testimonials are genuine... but one that safeguards client privacy.
WHAT WILL BE INCLUDED: I will moderate the Guestbook based on:

* Comments About Services: At the top of most pages, you will find comments about our services - phone and email readings (especially about our most popular Past Life Profile service). The most heart-felt and sincere testimonials have come from the old Guestbook. These genuine remarks from actual people are the heart of the Guestbook.. and each one has helped to spread the good news of past life healing around the world and back again. To each and every person, my thanks!

* Comments About Products: Below the comments about our services, are comments about our products. We offer ebooks and audio recordings to help our clients continue their healing process on their own at home.

* Comments About the Site: Below the comments about our products, are comments about the site. We are especially proud of how our work has reached all the way around the world to spread the good news of past life healing.
WHAT WILL NOT BE INCLUDED: Here are some general rules:

* No Disbelievers: Just as it would not be "loving my neighbor as myself" to go a Christian site and leave comments about the reality of reincarnation -or- to a Buddhist site and leave comments about the reality of a creator God, I will not post comments from those who disbelieve or are not sure they believe in reincarnation.

* No Irrelevance: What is irrelevant - in terms of this Guestbook - will be strictly determined by me, Ellen. If I did not include your comment and you want to know why, email me... I will be happy to share my reasoning with you.

* No Private Details: Those comments within brackets - like [private details withheld] - are there to help the Guestbook entry to make sense while, at the same time, protecting the individual's privacy. [RED comments] are mostly related links.

* No Ellen-Bashing: There are only positive comments in the Guestbook. First, because I only had one negative comment in the original book. Second, because I give refunds to unsatisfied customers (very few also) as I only want very happy customers. Third, I will not participate in/perpetuate other people's pain chain.
ABOUT QUESTIONS: If you really want to ask me a question...

I encourage others to ask me questions on the topics of past lives, karma, and reincarnation whose answers may be of interest to others. I will either post answers to these questions in the free ezine or on the site subject to the rules below.
* Only "G" rated Questions please. Why?
If the question when asked in a movie would cause that movie to lose it's "G" rating, I will not answer it. If it even smacks of sleaze, I will file it in the "To Do" bin, commonly known as the "Deleted Items Folder". This is my personal protest against the f!@#$% spam spewed out constantly by the "pornographers".
* No "Stump the Nun" type of Questions. Why?
"Stump the Nun" questions are the type that bratty kids would ask nuns in Catholic school to be "cool in front of their friends". These are questions like... "Could God make a rock so big that even He can't move it?" (I don't know) and "How many angels can fit on the head of a pin?" (I don't care).
* No "Oh Ye Blasphemer" type of Questions. Why?
"Oh Ye Blasphemer" questions are the type that bratty folks ask on raunchy talk radio shows. These are questions like... "What SANE person can REALLY believe in Past Lives/Higher Selves?" If I did not believe in these concepts, I would not be wasting other people's time... so don't waste mine.
* No "Cursed Spammers" type of Promotions. Why?
"Cursed Spammers" Promotions are those who sign the Guestbook with the sole intention of advertizing their site, their product, or their cause which is inconsistent with good karma. These entries will not be added to the Guestbook!
Other than that, "fire when ready, Gridley!"