Make money with Google Ads... just like me!


TENNIS LESSONS! Karmic Teachings from the Game of Tennis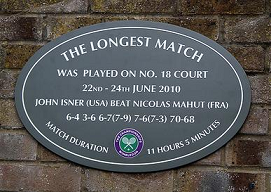 What I have learned from 40+ years of watching tennis!

Consistency Vision
Inspiration Toughness
Economy Fairness
Humor Perfectibility
Tenacity Resurgence
Longevity Graciousness
Pioneer Transformation
Uncommon Success

Consistency [All the World's #1 Tennis Players]

What does it take to get to the top of any field? Being excellent not just once but each and every day.
The same select group of people DO win in tennis all the time. When you watch tennis enough, you will understand that it is a game where on any day anyone can win.

Champions have much to teach us about the importance of consistency.

* Never Surrender: Those who set and break records will not beat themselves... others have to do the work to beat them. True champions never give up on the game or the set, never surrender the point, and never beat themselves.

* Dig Deep Inside: True champions can dig deep inside and raise the level of their play when it is needed to win the game. Champions only become better when they are challenged and they make the game/set/match amazing to watch.

* Go for It Every Time: True champions play through to the last point. It can be match point against them but they go for each point, each time, giving it all they have got, as if each point was match point. What top players can do... when they are down to their last point... is to turn the entire match around.

* Only Focus on Yourself: True champions focus on doing the best that they can do. They do not make many unforced errors or serve double faults. They are not rattled by bad calls or bad behavior by their opponents. They go for winners.

* Believe You are a Winner: All too often the same players win because even their opponents have become convinced they are champions. Many times opponents let champions off the hook when they should have eliminated them.

* Be Mentally Tough: Although true champions have lots of weapons in their arsenal, the ones who win are the ones who are mentally tough. Time and again, more the mentally tough player will defeat the more physically talented player. Those who are mentally tough each and every match can become truly unbeatable.

* Work Your Gameplan: Those who win time and again do so by design. They come into the match with a well thought out gameplan... and they work that plan... but they are also prepared to problem solve and adjust it on the fly.

* Just One Point: If you are "in it to win it until the last minute" then the game is not over until the last point has been played. All it takes is one point to force another game, to advance to the next set, and to turn the entire match around.

Vision [Bopanna and Qureshi, IndoPak Express]

What does it take to achieve success any field? It takes vision which powers an individual's belief in themselves and their actions towards making that vision real.
Anyone whoever raised a tennis trophy in life always did it in their minds first. It all starts with a powerful vision.

* The Essence of Vision: Pakistan's Aisam-Ul-Haq Qureshi said this about partnering with India's Rohan Bopanna in men's doubles and about finding success as the 'IndoPak Express'. "Sports can reach places where no religion or politics or politicians can reach... it's above all the religion and politics... If you can change few people's minds on Indian or Pakistan's side... it's a great thing." Here is their vision "[if we] can get along so well on and off the court, there's no reason Indians and Pakistanis can't get along with each other."

* The Upside of Vision: "Peace through Tennis!" and "Stop War, Start Tennis" are the mottoes of the Indo-Pak Express. Bopanna, an Indian Hindu, and Qureshi, a Pakistani Muslim, joined the Monaco-based "Peace Through Sports" group to promote their vision. Their goal is to play tennis match at a heavily fortified border crossing between their countries to demonstrate their unity.

* The Downside of Vision: Bopanna and Qureshi have chosen a very tough challenge for themselves. Tennis is not the national pastime in their countries. Still, they are winning friends and admirers one tennis match at a time for their inspiring message: "We are a very friendly, caring, and loving people. We want peace in this world as much as Americans. There are extremists in every religion but just because of them you cannot judge whole countries as terrorist nations."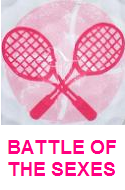 Inspiration [Billy Jean King]

What does it take to inspire someone to become the best they can be? A great moment in sports like this one!

* The Background: It was Mother's Day 1973. The 1939 men's tennis champion, Bobby Riggs, defeated the 1970 women's champion, Margaret Court, in straight sets. Quite an accomplishment, since Court had won a Grand Slam during her career while Riggs had not.

* The Essence of Inspiration: Emboldened by this victory, Riggs challenged American tennis champion, Billie Jean King, to a tennis exhibition to prove (once and for all) that no woman could ever beat a man. This match came to be known as "The Battle of The Sexes" and most believed Riggs would defeat King as well. Before the match, there was not a single person interviewed on television who believed that King would win. By then I had been watching tennis for a whole six years (yes, a mere 17 year old) and was certain the world had gone mad. I had seen them both play and made the bold prediction that King would beat Riggs in straight sets… and that is EXACTLY what happened.

* The Upside of Inspiration: I can remember jumping up and down out of pure joy the whole match. This was one of the most inspirational moments of my life. It deepened my trust in my own judgment. I leaned that, what others thought to be impossible, was not only possible but achievable if one worked hard enough and trusted in their dreams. I decided no one would ever hold me back because I was a woman. I acted as an equal to others from that day on (despite endless bad treatment by men in the workplace). This great moment in sports was directly responsible for the creation of and continuance of healpastlives.com

* The Downside of Inspiration: Those who truly inspire us take on enormous responsibilities, usually after a defining moment (like King's victory over Riggs) has stunned the critics and the nay-sayers. From that moment, Billie Jean King was transformed from a tennis champion to the "Champion of Tennis!" She has worked tirelessly ever since to promote the sport and to ensure that pay and conditions were fair for everyone. King's role in tennis has helped it to grow in popularity and has inspired a legion of women tennis players all over the world. King has borne this great responsibility with dignity, energy, enthusiasm, and grace!

Toughness [Rafael Nadal]

What does it take to be tough enough to be and do your best each and every day no matter what?
It takes courage, determination, and persistence: these are the qualities that have and will continue to change the world. Being and doing our best is what God wants from us all.

* The Essence of Toughness: What makes Rafa such a phenomenal tennis player is his exceptional toughness. Rafa plays each and every point as if it were match point. If Rafa is down 0-40, that is not necessarily a problem because 70% of the time he will dig himself out of that hole and come back to win the game. If Rafa's serve gets broken (which is increasingly rare), he will break right back. No matter how far down he is in the set, you can never count him out of it.

* The Upside of Toughness: Rafa is absolutely unrelenting in his style of play… which is what has endeared him to tennis fans. Like many a Spanish tennis player before him, he is tough right down to his core. Rafa never gives up. His opponents must beat him because Rafa will never beat himself. It is this kind of toughness that has created mighty empires, driven worthy causes, and moved civilization forward. It is this kind of toughness that blasts right through the worst karma.

* The Downside of Toughness: Rafa's toughest opponent has been himself. His intense style of play inevitably resulted in injuries all along the way. Injuries meant there were times he could not play. Through toughness, Rafa learned discernment: he no longer goes for unwinnable shots. When the going gets tough, the tough get going. Yet, the tough can only keep going when they decide to pace themselves. Being tough on yourself is a good thing when it drives you to excellence: it is a bad thing when it drives you to a perfection that can never be achieved.

Economy [Roger Federer]

What does it take to have a long career full of achievement and accomplishment?
It takes pacing yourself! It takes preserving your body! It takes training your mind and emotions to be gracious in defeat, generous in victory, and gentle with yourself!

* The Essence of Economy: Tennis is brutally hard on the players. The split second decisions made by the mind as to how the body must move to keep the ball in play can lead to injuries that can end a career. Almost all professional tennis players are sidelined by injury. Only one has beaten the odds by suffering no major injuries: that player is Roger Federer. Part of the reason that Federer has such a history of winning tennis is because he is able to attend all the matches he chooses... because he is virtually injury free due to his economical style of play.

* The Upside of Economy: Federer consistently has service aces (winning the point in one shot), service winners (winning the point in two shots), and well constructed points (winning the point in less than 5 shots). His games go by so quickly that it seems like his opponents are always serving. The vast majority of his wins come in straight sets that seem like "just another day at the office" for Roger. Economy is greatly rewarded in tennis because those who advance through the tournaments with easy wins have plenty left in the tank come the final.

* The Downside of Economy: Economy is a double-edged sword. When a player like Federer wins too easily and is not challenged, the tougher, battle seasoned opponent (like Nadal) can wear him down. When another could push through Roger's economy and force a fourth or fifth set, he was vulnerable. While economy is great, it comes at a cost in not pushing one to the limits of their abilities.

Fairness [Andy Roddick]

What does it take for life to be generous with you?
It takes you to be fair and generous with life as Andy Roddick has with his ongoing humanitarian efforts off the court. Check out "Serving Children Today for Tomorrow" to see how a tennis player with a dream is changing lives.

* The Essence of Fairness: The essence of fairness is making right what others see as wrong and choose to do nothing about. For example, in the 2010 French Open, Roddick had protested vigorously against the sloppy storage of court covers. That practice meant the covers retained water that later leaked on to the court creating puddles that players could slip and fall on. Players in later rounds were grateful that pressure from Roddick got the officials to clean up their act.

* The Upside of Fairness: The world is always a better place when fair minded people see injustice and decide that things must change for justice to prevail. Sometimes their passion for fairness means that they get carried away while they are passionately protesting it. Often they continue complaining long after others would have stopped because they want to make sure they are heard and the wrong is righted. More often than not, it is because the fair minded pursue their complaints that things do end up changing for the better. Andy Roddick has made the tennis world a better place because of his single-minded pursuit of fairness.

* The Downside of Fairness: Many people see unfairness and "do not want to get involved" in righting those wrongs. The fair minded person takes on the burden of making things better for everyone. They usually do it alone. They usually have to do it by aggressively taking action. This is usually because unfairness exists due to others, who should have done the right thing, are supporting doing it wrong. Even though others are grateful that fair minded people took action, they are intimidated by the fact that the fair chose to take action when they did not.

Humor [Novak Djokovic]

What does it take for the game of tennis to be better?
Humor! Tennis is a game and games are supposed to be fun... even when you are working at playing for a living. Those who are funny (like the Djoker) take the game to the next level of enjoyment for all us tennis fans.

* The Essence of Humor: Novak Djokovic (pronounced by many commentators as JOKE-o-vick and by many fans as the Jokes-ter) did an immortal impression of John McEnroe at the 2009 US Open. He looked at the umpire's chair and used McEnroe's signature phrase of "you cannot be serious" to protest an imaginary call. The crowd went wild as Novak challenged McEnroe to come down from the broadcast booth to join him on court for a mini-match. McEnroe responded by coming on court and imitating Djokovic's signature of excessively bouncing the ball before serving. Each won a point from the other before congratulating one another for a game well played. This was tennis humor at its absolute finest.

* The Upside of Humor: Novak (Nole) is always making commentators and fans laugh with his witty remarks. Yet, his facial expressions can make even the non-fan smile. For example, in the final of the 2010 US Open when Rafael Nadal made an amazing shot, Novak Djokovic shook his head and looked up as if to say "I guess you want Rafa to win this one, God!" It was the Jokester's humorous nature allowed him to take his eventual loss to Nadal with grace and composure.

* The Downside of Humor: Things are only truly funny when both people who are involved in the joke are laughing. Djokovic's impressions of Nadal, Federer, Roddick, and Sharapova were, to the tennis fan, really hysterical because he had captured their unique expressions and mannerisms perfectly. Yet Andy did not find it funny while Rafa, Roger, and Maria chose to ignore it (pretending they had not seen his impressions). While it is admirable to have a good sense of humor, it is even better to forgo it if the targets of the humor are not laughing.

Perfectibility [Elena Dementieva]

What does it take to keep up with the competition?
Striving for continuous improvement through perfectibility! This means doing whatever it takes to correct weaknesses and to build on strengths. What was good yesterday needs to be even better tomorrow - this is perfectibility!

* The Essence of Perfectibility: Elena Dementieva held the rank of Number One without a great serve or hitting power or tricky shots. What she had going for her was perfectibility! No serve? No problem, Elena worked on that serve night and day, taking advice from anyone who could help. No power? No problem, Elena worked on her fitness and moved to a warmer climate so that she could better take the heat. No tricky shots? No problem, Elena went back to the tennis academy to relearn advanced moves. All it takes is hard work and determination.

* The Upside of Perfectibility: Perfectibility means always trying to improve. The world is always changing. What was good enough yesterday may not be good today and will not be enough in the future. Those who want to stay in the game must constantly be improving. Like Dementieva, they must be learning what is best and new from the competitors and incorporating it into their game. They should be correcting their weaknesses and increasing their strengths. They should always be searching for ways to "raise the level of their game" and always do better.

* The Downside of Perfectibility: Perfectibility means constantly working hard and making sacrifices. Moving away from home and family has to be one of the greatest sacrifices a person can make. Returning to school when you are older than the other students is very isolating. Working longer hours than your competitors makes life tougher. Doing all this when you know your days at Number One are (probably) behind you is tougher still. Yet nothing is the physical world is gained without persistent effort… least of all, perfectibility as Elena Dementieva knows.

Tenacity [Maria Sharapova]

What does it take to get to the top and do it again?
It takes the laser-like tenacity of someone who knows they have what it takes to succeed, who prepares to succeed with meticulous precision, and who goes after their success with a single-minded focus... just like Maria Sharapova.

* The Essence of Tenacity: In 2004, at age 17, Maria Sharapova upset two-time defending champion Serena Williams in the Wimbledon final. She rose to be world Number One. In 2006, Sports Illustrated named Sharapova as the world's best-paid female athlete. Sharapova replied, "It's never enough. Bring on the money. There's no limit to how much you can make." In 2010, Sharapova renewed her contract with Nike, signing an 8 year deal for $70 million (the most that any female athlete has ever earned). Those who seek mega-abundance should be inspired by Sharapova's example in manifesting her dreams into reality.

* The Upside of Tenacity: Whatever her physical state, Sharapova is always interesting to watch because of her mental tenacity. Her opponents MUST beat Sharapova because she will never beat herself. Mentally and emotionally, Maria is still as tough as a diamond. When/if she regains her former level of physical prowess, her "tenacious-as-a-pit-bull" mind will catapult her back to the top of tennis. Those who are paying her $70 million must be convinced about that!

* The Downside of Tenacity: Tennis players have a short window of success. Most retire by the age of 30. The real concern about Sharapova is that she will continue to play until she has utterly ruined her serving arm and shoulder. Those who are tenacious seldom listen to the wisdom of their body… until it is too late. I pray that Maria's arm and shoulder will be just fine during her long tennis career.

Resurgence [Kim Clijsters/Justine Henin]

What does it take to get to the top and do it again?
It takes the love of what you are doing to draw you back into the game. It takes risking the agony of defeat to once again taste the thrill of victory. It is the pure joy of playing the game you love that makes resurgence possible.

* The Essence of Resurgence: Conventional tennis wisdom used to state that 1) once top players resign from the game they do not return and 2) once a female tennis player has a child, she cannot win. Two players from Belgium, Kim Clijsters (from the Dutch part) and Justine Henin (from the French part), busted both those myths. Both came back to win tournaments against younger and stronger players.

* The Upside of Resurgence: Both Kim and Justine came back because, while watching tennis tournaments on TV, each knew that they were still competitive. Although both appreciated the money, each stated that they had returned for the love of the game and not for the money. Most top tennis players - who truly love the game - will continue to play it long past any chance they have to win big. There is something inside everyone (especially visible in tennis players) that will push them to be the best they can be and to express the natural talents inside them.

* The Downside of Resurgence: Resurgence comes at a price. For Justine Henin it was battling "mono-like" illness that is aggravated by the stress of play. Each match Justine wins leaves her weaker for the next one. The farther Justine advances, the more difficult matches become. For Kim Clijsters it was trying to have and juggle it all. At times, the challenges of motherhood seem to sap her strength. It is easier for her competitors who only have to focus on themselves.

Longevity [Chris Evert/Martina Navratilova]

What does it take to get to become a living legend?
As Chris Evert says, "Find what you're really interested in doing in your life. Pursue it, set goals, and commit yourself to excellence." If you follow this simple but powerful advice, you will rapidly dissolve your karma.

* The Essence of Longevity: Thousands of tennis players have entered and exited the game… and few are remembered a generation or so later. Yet two women's tennis players from the 70's & 80's still are: Chris Evert and Martina Navratilova. Despite her impressive track record of match wins, Chris Evert is best remembered as the popularizer of the tennis bracelet (pictured above). Martina Navratilova is best remembered for her astonishingly long career: her first professional match win was in 1975 and the last one in 2006. Both need no introduction as everyone in tennis knows who "Chris" and "Martina" are/were.

* The Upside of Longevity: When you have found what you love, it gives you perspective and a positive focus. About perspective, Chris Evert says "If you can react the same way to winning and losing, that's a big accomplishment. That quality is important because it stays with you the rest of your life, and there's going to be a life after tennis that's a lot longer than your tennis life." About positive focus, Martina says "It's the positive attitude that gets you through life and it is a choice. I've always been too much of an optimist... I think it's done me pretty well". Both are grateful for the longevity of their careers in tennis which was due in large part to their mature perspective and positive focus.

* The Downside of Longevity: "Chris" and "Martina" may have retired from tennis but they can never quit it. Tennis will always be a part of their lives… and that is a good thing because they richly deserve their well earned career longevity.

Graciousness [Bjorn Born/Arthur Ashe]

What does it take to stand out from the crowd?
Tennis is a polite and mannerly game. In an era populated by tennis bad boys with explosive tempers the quiet gentlemen, like Bjorn Born and Arthur Ashe, really stood out... and are still remembered for their lovely manners.

* The Essence of Graciousness: When others threw temper tantrums about bad calls by linesmen, Borg and Ashe would stand by silently and wait for the chair umpires to deal with their explosive opponents. When Borg received a bad call, he would just look at it for a moment and then resume play. If the call was unfair, Borg would just walk over to the spot, point his racket at it, glance at the chair umpire, and walk back to the baseline: that was it! Similarly, Ashe would just give a polite look to the spot and then resume play as if nothing bad had happened at all.

* The Upside of Graciousness: Truly gracious people, like Borg and Ashe, tend to stick in the memories of others as inspirational role models. When Ashe spoke openly of his AIDS diagnosis, he was unusually gracious. He did not blame anyone for his condition instead asking others to remember his achievements both on and off the court. Ashe was an activist in the civil rights movement as well as an active supporter of youth education. When Borg decided to retire, he did not do so with the usual media circus, instead he exited quietly and graciously.

* The Downside of Graciousness: Borg and Ashe played the role of the elder statesmen of tennis after their retirements. When Roger Federer achieved a career high record of singles titles as the 2009 Wimbledon champion, Borg was there to congratulate him. Before Ashe died from complications of AIDS, he said "If I were to say, God, why me? about the bad things, then I should have said, God, why me? about the good things that happened in my life." There is only one downside: that others do not appreciate the gracious until after they are gone.

Pioneer [Zheng Jie/Li Na]

What does it take to be the first pioneer for your sport?
Chinese tennis players, Zheng Jie and Li Na, could answer that question. Zheng Jie was the first to reach two semi-finals at a major tournaments while Li Na made history in 2011 by winning the French Open (tennis major).

* The Essence of Pioneers: Imagine being born into a country where… Tennis is played only for exercise as a warm-up for team sports. Tennis courts are few and far between. Tennis equipment costs a fortune. Most major tennis matches are played while the whole country is sleeping. Most of the time, you must play tennis half a world away from home. Most of your opponents are taller and stronger than you are, putting you at a disadvantage. Skimpy tennis outfits classify you as a prostitute. All this makes a pioneer's journey much tougher than it has to be.

* The Upside of Pioneering: The pioneer is forever immortalized. Long after they are gone, they still serve as an inspiration and role model for others. Due to constantly overcoming obstacles, the pioneer becomes as tough as a diamond. They achieve a mental toughness that makes them formidable tennis opponents. It almost makes up for their lack of physical strength and stamina. It automatically commands the respect of opponents and fans alike. Most of all, it shows the world that was once thought impossible, is, in fact, possible and achievable.

* The Downside of Pioneering: For Chinese tennis players, 60% or more of their income is taxed away. Plus the pioneer who blazes the trail for others takes considerable abuse in the process. China did not/does not do much to support their tennis players. China frowns upon individual sports because it is a "team oriented" society. Chinese players are on their own… in ways that players from "tennis mad" countries are not. So it is not surprising that both players demonstrate incredible composure: you would never know the score just by looking at their faces. Of course, just getting to a tennis tournament is already a victory for these women.

Transformation [John McEnroe]

What does it take to turn your public image around?
"You cannot be serious!" Hearing John McEnroe utter these words during a match meant only one thing... an argument with yet another chair umpire about yet another bad call from yet another linesman. This WAS his public image.

* The Essence of Transformation: Unfortunately, John McEnroe played during the days when all calls were made by humans and when bad calls were part of the game. I believe if the current "Challenge System" had been in place (where computers accurately call balls in or out like the "Hawk-Eye" system pictured above), then McEnroe would not have become the infamous "Bad Boy of Tennis". Perhaps John McEnroe would not have defaulted (forced to lose) the 1990 Australian Open because there would have been no need to swear at the umpire.

* The Upside of Transformation: If there was a "Karma Lifetime Achievement Award" for "Most Improved Player", John McEnroe would certainly win it. There are literally a million karmic miles between the younger "bad boy" and the older professional sports broadcaster. It is almost like they were two different people. McEnroe is proof of karmic concept: the life experiences we agree to have on Earth are meant to make us better, wiser, more compassionate, and loving.

* The Downside of Transformation: In the years since his 1990 default, McEnroe has done much to transform himself from ranting player into professional sportscaster. The problem with transformation is that no one ever lets you forget your past. No matter how excellent a job McEnroe has done/is doing at broadcasting tennis, no one ever forgets his "bad boy" days as a player. "You cannot be serious!" will be associated with McEnroe for the rest of his life.

Uncommon Success [Ai Sugiyama & Co]

When success cannot be achieved the "common" way, it can be achieved by pursuing it "uncommonly" (meaning in "counter-intuitive" ways). Tennis teaches that when you succeed by "playing ugly", all that matters is that you have won (and not how ugly the victory was)!

* Uncommon Success: Success "against all odds" happens despite what is missing, in a contrary manner, or by coming at it sideways. Most who succeed in tennis follow "common wisdom" along a traditional path… but there are others who succeed "against all odds" by following their own path. Here are some examples:

* What's Missing: "Common tennis wisdom" says that no one can be a great tennis player without a dominating serve. Great serves create "cheap points": a point in one shot (service ace), in two shots (service winner), and in three to five shots (a well constructed point). "Tough" points come from rallies (six to 30 shots) and "painful" points come from deuces (beyond 30 shots). A player without a great serve seems like they are serving all the time through rallies and deuces, especially if their opponent quickly sails through their service game. So you would think that a player without the big time serve could never be "World #1" in tennis… but with a lackluster serve, Caroline Wozniacki (a fellow Dane), did just that.

* What's Contrary: "Common tennis wisdom" says that no one can be a great tennis player without an attacking, offensive game. Playing a defensive tennis game is quite the contrarian strategy which requires both perfection and precision which wind, heat, and rough surfaces interfere with. The defensive player allows the offensive player to dictate play but diffuses each offensive move and eventually grinds the attacker down with perfect defenses. You would think a defensive player could never be "World #1" in tennis… but "Miss D", Jelena Jankovic, did just that.

* What's Sideways: "Common tennis wisdom" says that no one can be a great tennis player without a well rounded physical, mental, and emotional toolset. Physically you need the weapons (serve, forehand, backhand, ground-strokes, speed, court coverage, deep fitness, and so on). Mentally you need to be focused while emotionally being calm. Only one player has ever succeeded in tennis "sideways" without great physical weapons but with unmatched mental tenacity, toughness, and determination as well as superb (and rarely seen) emotional control… her name is Ai Sugiyama, the "Iron Woman" of Japan. Her motto: "if there is one tennis point left, anything can happen and you still can win!"
Credits: from channeled information.

KEYS:
F-R-E-E:
SERVICES:
BOOKS:
TOOLS:
CONTACT: